Preschool in Port Macquarie
ST AGNES' EARLY EDUCATION CENTRE
St Agnes' Early Education Centre is a 90 place service providing long day care (7.30am – 6pm), for children aged from 0-6 years. Affectionately known as 'St Aggies', our family-focussed early childhood service promotes an environment where children feel safe and belong.
Qualified, experienced Early Childhood Educators implement play based programs to support each child's self-discovery and achievement.
'St Aggies' is a safe, comforting place where children and parents learn to manage being apart. It also provides them both with opportunities based on shared experience, to make friends and develop social connections for life.
Contact:
Enrolment: 0419 220 318 – Centre: 6583 4491
Em: stagneseec@sjfs.stagnesparish.org.au

6 Burgess Close, Port Macquarie
JOEY'S HOUSE EARLY EDUCATION CENTRE
Joey's House Early Education Centre (JHEEC) is a small, intimate and reputable 55 place service offering flexible options to suit each family's needs: long day care (7am – 6pm) and occasional care (8am – 5pm).
JHEEC focuses on providing a secure and nurturing environment that is stimulating and encourages participation and learning potential. It offers a high educator to child ratio and personalised education and care programs for each child in its care.
Highly experienced, qualified Early Childhood Educators support children to thrive in the large and well equipped outdoor and indoor play and learning areas.
Contact:
Enrolment: 0419 220 318 – Centre: 6583 5242
Em: joeyshouse@sjfs.stagnesparish.org.au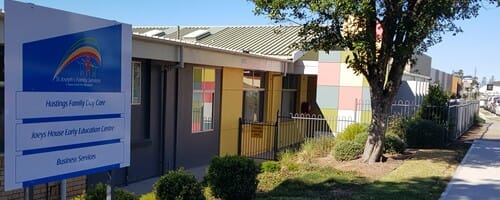 Warlters Street, Port Macquarie
ST JOSEPH'S PRESCHOOL AND LONG DAY CARE
St Joseph's Preschool and Long Day Care is a 60 place service that offers both short day (8.15am – 3.45pm) and Long Day (8am – 6pm) hours for children from 3-6 years.
Experienced and qualified Early Childhood educators approach the needs of each child with an individualised educational program in a modern, well-resourced facility.
St Joseph's promotes strong relationships between Educators, children and families through excellent communication, a Parent Association group, regular family involvement, and set day groupings. Its calm environment provides a predictable yet flexible routine that leads to quality learning and a positive experience for children.
The centre also encourages healthy eating and nutrition, which supports parents in helping their child build healthy habits for life.
Contact:
Enrolment: 0419 220 318 – Centre: 6583 3843
Em: stjosephspsldc@sjfs.stagnesparish.org.au

4 Burgess Close, Port Macquarie
To book a tour of our centres, please complete the form below
or call (02) 6583 6464
Our stimulating early education and care centres are resourced to provide developmental educational programs supporting the inner strengths of your child, laying a foundation for their future success